Transforming Files
All file transformations happen through parameterized tasks appended to the file URL, which means you can transform uploaded files via their handles or files you already have in storage via Storage Aliases.
You can view all tasks and their parameters in the Processing API reference.
File Conversion Matrix
Filestack supports converting between a multitude of file formats, and we've created a matrix to help you know what kind of conversions are supported.
You can download a PDF of the file conversion matrix from here or by clicking on the image below.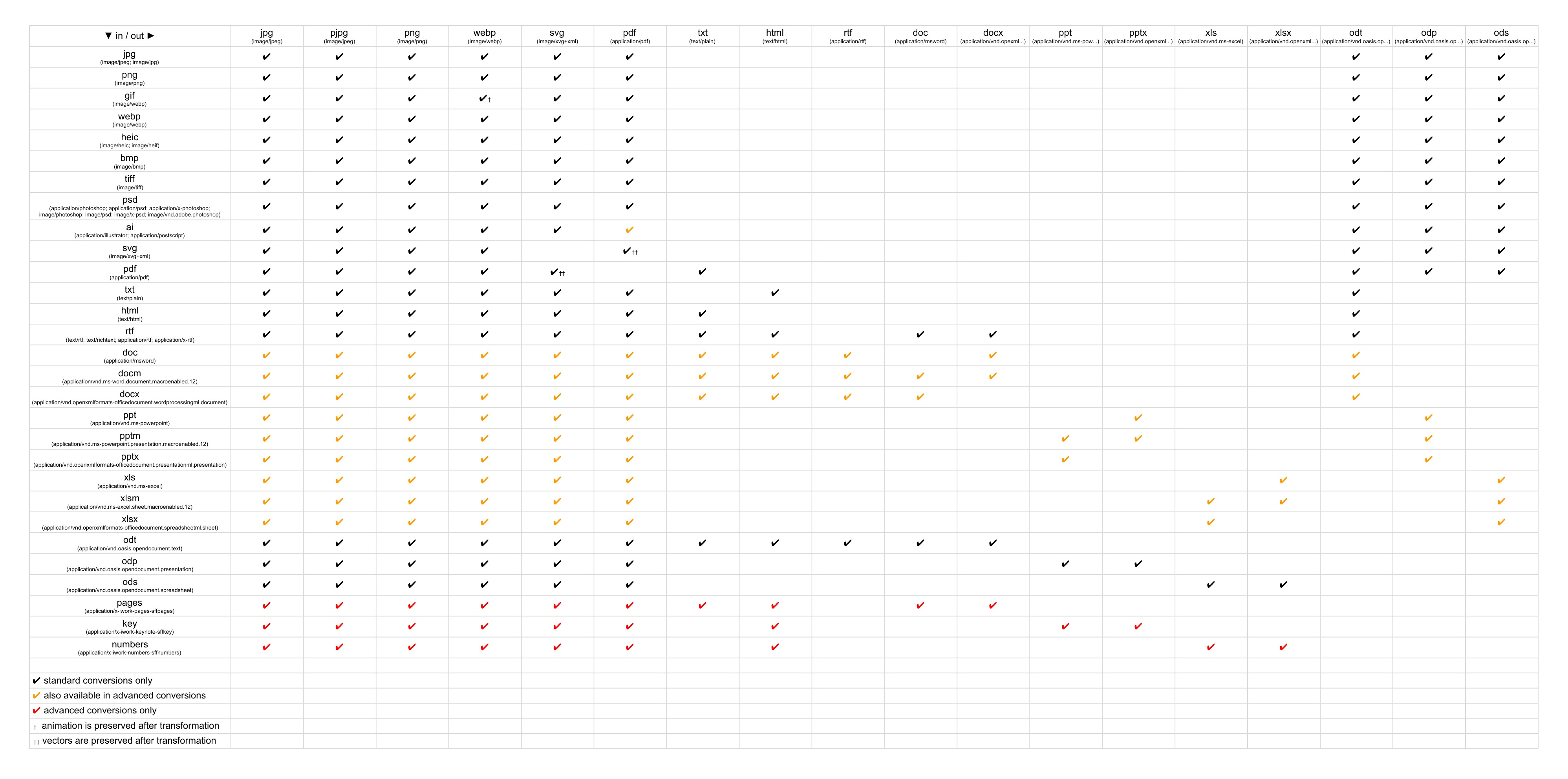 Document Viewer
Note: This feature requires a paid plan.
Filestack offers a way to preview files in the browser combining our processing engine with a custom solution built on Mozilla's PDF.js.
Supported file types:
PDF files (PDF)
Powerpoint files (PPT, PPTX)
Excel files (XLS, XLSX)
Word files (DOC, DOCX)
ODF word processing documents (ODT)
ODF presentation documents (ODP)
Image files (gif, tiff, jpg, jpeg, png)
HTML files
Plain text files
Adobe Illustrator and Adobe Photoshop files (AI, PSD)
Any file that is a PDF or supports being converted into a PDF can be previewed by using the preview processing task in the file URL:
https://cdn.filestackcontent.com /preview/ HANDLE
This URL can be embedded in your page as a HTML iframe element, and our JavaScript client provides a convenient preview method to generate and embed these URLs.
For example:
<

iframe

 

style

=

"width:100%;height:600px;"


        

src

=

"https://cdn.filestackcontent.com/preview/SGe380ViQ7W8efiX6sdG"

>
</

iframe

>